CSA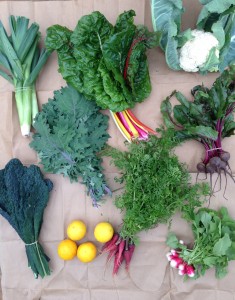 UPDATE: There will be no CSA this fall
16-Week Produce Share with Bi-Weekly Pickups
The Knopp Branch Farm CSA is an opportunity to receive a seasonal share of our farm harvest. As a member, you'll subscribe and pay at the onset of the growing season for a 16-week share of the anticipated harvest. Once harvesting begins, you'll receive bi-weekly shares of vegetables and fruit. Each of the eight shares is $40, for a total subscription cost of $320 per 16-week session. Each share will consist of between 6-10 different vegetables, fruit and herbs, and now occasionally fresh eggs from our farm chickens.
What is a CSA?
Community Supported Agriculture (CSA) is a locally based economic model of agriculture and food distribution where a group of individuals – like you – pledge to support one or more local farms, with growers and consumers sharing in the risks and benefits of food production. CSAs support small-scale farmers and help strengthen the local food system. Members experience the seasonal fluctuations of produce with the farmer, recognizing the impact nature can have on local food production. As a shareholder in both the bounty and the risk, nature ultimately decides what you will receive in your share. Because the share is delivered directly from the farm to you, the produce stays fresh longer for you to enjoy.
How do I pay?
Members pay in advance to secure their shares, committing directly to the farmers. We accept payments by cash, check or PayPal.
There are no fees to join and no long-term commitments.
When do I pick up my share and where is the pickup site?
HOUSTON: Pickups begin WEDNESDAY, April 5 from 4-6 pm and will be every other WEDNESDAY for 16 weeks (8 pickups total). The pickup site is in the offices of our friends at Naturally Nourished, located at 701 Richmond Ave., Suite 275, Houston, TX 77006. Thank you Naturally Nourished!
VICTORIA: Pickups begin WEDNESDAY, March 29 from 12-2 pm and will be every other WEDNESDAY for 16 weeks (8 pickups total). The pickup site is inside the Victoria Advocate building, next to the restaurant of our friends at Guerrilla Gourmet, located in downtown Victoria at 311 E Constitution Street, Victoria, TX 77901. A big thank you to our friends at the Victoria Advocate!
AUSTIN: Pickups begin THURSDAY, April 27 from 4:30-6:30 pm and will be every other THURSDAY for 12 weeks (6 pickups total). The pickup site is in Travis Heights.
How do I pick up my produce at Naturally Nourished and Guerrilla Gourmet?
When you arrive at the pickup site (Houston: every other Wednesday from 4-6 pm; Victoria: every other Wednesday 12-2 pm; Austin: every other Thursday 4:30-6:30 pm) a representative from Knopp Branch Farm or Naturally Nourished will be on hand to help as you:
Initial Sign-off Sheet – Locate your name on the member sign-off sheet and initial.
Take your Veggies – At each pickup, the contents of that week's share will be posted. The produce will be organized in coolers and you'll simply transfer the allotted vegetables into your own cooler or bags.
What happens if I cannot pick up my share?
We recommend (and hope!) you can find someone who is able to pick up your share. The garden still grows and we still need to harvest, so there is no rescheduling of pickups. If you are unable to pick up your share or to have someone else pick it up for you (or themselves) we are happy to donate the leftover shares in your name.
Can I choose what vegetables I receive at each pickup?
We plan each growing season months in advance and provide an equal share for each of our members at every pick up. Due to seasonal availability you cannot pick and choose produce for your share. If you do not care for a particular fruit or vegetable please consider sharing it with someone who is a fan. If you're unfamiliar with the fruit or vegetables included in your share, please don't hesitate to ask questions and talk recipes with us.
What is your refund policy?
In the CSA model, members are seen as active farm partners, sharing the risks and rewards of the harvest. Should you choose to cancel your subscription, we cannot offer a refund for shares already paid for. The Knopp Branch Farm CSA partnership sustains our farm, the individual members, and the community at large. Given this no-refund policy, we advise that new members consider their personal calendar and think carefully before committing to a 16-week share.
The Waiting List
Each season is planned in advance and there is limited space available. Membership is available on a first-come, first-served basis until we are full. If CSA membership is full for the16-week subscription season, please contact us to sign up for our waiting list and you will be notified when memberships are available.
Can I visit and/or volunteer at the farm?
We work hard and get dirty, but we have a friendly – if motley – crew and always have a good time. Our members are always welcome to visit the farm for a tour or for those who want to get their hands in the soil, a volunteer work day. Please give us a call ahead of time to schedule a date and time. Groups are welcome to tour the farm with fees applied and by appointment only. Contact us if you would like to schedule a group tour. We occasionally host seasonal events in partnership with our Houston chefs and restaurants, and we offer farm to table experiences for private groups.  We also have guest accommodations for an amazing farm stay mini-vacation.
Please read the Knopp Branch Farm CSA Policies. Your subscription payment acknowledges your acceptance of the policies.